Industrial recycling is important for many reasons. For some industries, the sheer volume of industrial containers over the course of a year can really add up. If your company utilizes steel or plastic drums, or any type of intermediate bulk containers, incineration recycling can dispose of these in a safe and responsible manner. We can work with you to come up with a plan for safe and effective recycling or disposal.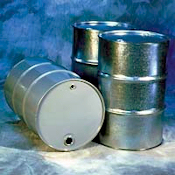 Pharmaceutical Industry
Pharmaceutical companies may be interested in our steel drum disposal and recycling services. Many times a drum can be resold, so you may be able to recoup some of your materials costs. Drums that are eligible to be resold can result in your company getting some money back.
Petroleum Products
Gas and oil storage containers can be hard to dispose of properly. Incineration recycling services can take care of this for you so you can meet your environmental goals.
Food and Beverage Industry
At some point, those in the food and beverage industry have steel drums and other containers that no longer meet their specifications. Incineration Recycling Services can deal with large or small amounts of containers. The good news is that many containers used for food and beverage can be reused rather than incinerated.
Agriculture
Bulk chemical sprays and other liquids often come in intermediate bulk containers for larger agricultural operations. We will determine if your container is suitable for recycling or if it must be incinerated.
Turn Your Used Containers And More Into Cash Flow
Rather than just finding a way to get them off your hands, it is possible that you could be getting a check for your recyclable materials. Incineration Recycling can help create recycling programs at your company that maximizes the money you get back and helps you decrease the environmental footprint of your company. We can help you recycle plastics, cardboard, steel drums, and intermediate bulk containers.